Let Aleph IT show you how much time, resources and costs we can save your business with a completely fixed cost IT managed service. Our team delivers top skill sets and experience for every avenue of IT, and it is all included at no extra charge.
Whilst different members are passionate about their fields of expertise, we all share the same goal in ensuring we deliver nothing but the best customer experience every time!
Aleph IT can implement a security strategy and solution for any sized business. From highly advanced complex services, covering servers, networks, web servers, mail servers and more, to simple SMB sized networks catering a server and multiple workstations. We offer what is the absolute core fundamental in any IT Security Strategy… Knowledge, Experience, and a Proven Track Record of success!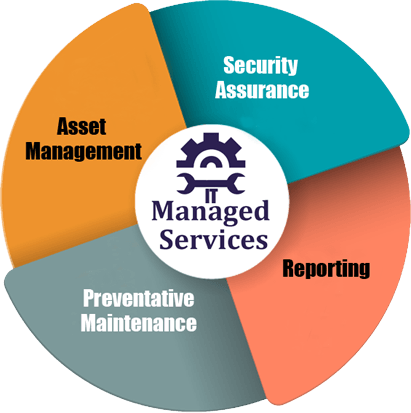 We bring a wide range of skill sets and expertise to your business and will take care of all your IT and Telco issues. We can recommend and implement the best solutions to fit your business and its needs.
We provide pro-active monitoring and maintenance of all your workstations, servers, networks, security, websites, printers, phones and more. We including reporting and analysis on the current status of your IT environment and all work completed during regular maintenance. These reports include backups, computer and network security statuses and much more. They can be generated daily, weekly, and monthly and include as little or as much detail you would like.
We have an established ITIL Helpdesk for your staff to log and track all incidents. Reporting can be provided regularly along with pattern analysis reports to identify and resolve continuous ongoing IT issues from re-occurring.
If you are constantly being hit with unfair and ongoing IT invoices from your current IT provider trying to constantly fix the same problems over and over, then stop right there! Contact Aleph IT today for a free no obligations quote and assessment.