Highest Quality and Affordable Prices PC Repair Perth
Aleph IT is the leading provider of PC repair Perth. Our experienced IT technicians and engineers are at your service to fix, manage, and upgrade your business computer infrastructure and give you a reliable and smooth computer experience.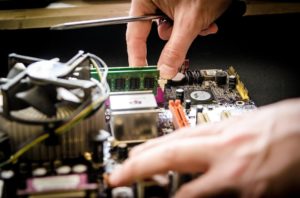 We are willing to render on-site repairs to any type of business industry and home owners. Our Repair and Support Services cover desktop, laptop, Apple Mac units. We ensure to comprehensively analyse your device before initiating the repair process.
We work with any brand
            Our experienced technicians and engineers can get your device up and running and provide excellent diagnoses to brands such as:
Acer, Dell, HP, Lenovo, Asus, Samsung, Sony, Toshiba, MSi and more.
Our repair and support services cover
Keyboard fix and replacement for broken keys
Battery issues
Liquid spill
Screen damage
Start-up problems
Hard disk, RAM, and Motherboard upgrade and replacement
Battery and power cable and adapter replacement
Unprecedented and repetitive reboots
Virus Removal
Installation of latest laptop drivers
Windows glitches
Data transfer to new devices
Data backup and recovery
Eliminating unwanted popup and spyware
Network connection problems
OS Upgrade
Mac Issues Repair
            Our company specializes in repairing all types of Apple products like MacBooks, Mac Pros, iMacs, Mac Mini's, and Macbook retina. We deliberately fix issues in Mac such as:
Solid state replacement and repair
Water damage
Upgrade memory
Screen and keyboard replacement
Repair of backlight
Virus removal for Mackeeper
Charging issues for any MacBook
Operating System upgrade
Repair of Logic board
These Apple products have different internal hardware but encounter the same common issues. It is better to consult such issues with our expert technician or engineer for safe and secure diagnoses.
For more details about our PC repair Perth, why not give us a call today? We would be happy to entertain all your questions and give you free quotations!